Be an Election Challenger
Posted on Tue, 02/11/2020 - 11:11am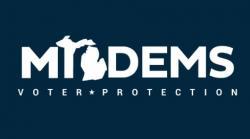 The Michigan Democratic Party is seeking Election Challengers for the 2020 elections, starting with the March 10 presidential primary. You can make an important contribution to our democracy by volunteering for this important role on Election Day.
What is an Election Challenger?
Election Challengers are volunteers appointed by the Michigan Democratic Party to monitor our elections and make sure that every eligible voter gets to cast a ballot that counts. They serve as a key check and balance on the election process.
Challengers can stand or sit behind the tables in precincts, observe the processing of voters, and look at the poll book. They have the right to challenge the actions of the poll workers if the challenger believes that election law is not being followed. This means that a challenger is able to intervene when an eligible voter is at risk of being disenfranchised. For problems that they cannot solve directly with the poll workers, challengers escalate the issue to a team of attorneys in the MDP's Election Day "boiler room."
Where Will I Be Assigned?
You will be assigned to cover one or more voting precincts, or an absentee ballot counting location. You do not need to live in the city/township where you are assigned. You can choose how far from your home you are willing to travel on Election Day.
Do I Have To Work All Day?
Ideally you would be able to work the entire time the polls are open and for an hour afterward to monitor closing procedures (7am to 9pm). But if you are unable to do that, half-day shifts are available.
Is Training Provided?
Yes, and you must attend one training session in order to be assigned. Training will be offered in person in multiple locations, and by webinar, from February 22 - March 1.
Eligibility/Qualifications
Must be a registered voter in the state of Michigan
Can't be a candidate for any elective office in the election. (Exception: Candidates for precinct delegate may be challengers in a precinct other than the one in which they are a candidate.)
Can't act as a poll worker at any time throughout the course of the day.
You don't have to be a lawyer to do this job! You just need to be willing to learn some of the rules relating to elections, and to speak up when you see that the rules are not being followed.
How Do I Sign Up?
Please fill out and submit this form to sign up. Contact Kelly Garrett with any questions at mgarrett@michigandems.com