Join the Oakland County Democratic Party
2020 is the perfect year to join OCDP! The August primary and November election will include all of the leadership roles in Oakland County as well as the Michigan Legislature, U.S. Congress, and President. This is the first time a Democrat has ever served as County Executive. This occurred when a new Democratic majority on the Oakland County Commission appointed a Democrat to serve as County Executive following the death of long-serving L. Brooks Patterson. 2020 is our year to elect a Democrat as County Executive. OCDP will be working hard to elect Democrats to all of the following roles:
County Executive

Prosecuting Attorney

County Sheriff

County Clerk/Register of Deeds

County Treasurer

County Water Resources Commissioner

County Commissioners
Please join the OCDP to add your support for successful 2020 elections. Simply use our new Online Membership Form to join today! 
Basic ... $30 per year
Student/Senior...$20 per year
Family ... $60 per year
Hundred Club ... $10 per month or $120 per year

(Best Value!)

Commissioners Club ... $25 per month or $300 per year
Senators Club ... $208 per month or $2,500 per year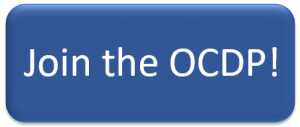 Alternatively, you may mail your completed Full-Page Membership Form (in Adobe PDF format) and your check payable to:
Oakland County Democratic Party
555 Horace Brown Dr., Suite 202

Madison Heights, MI 48071
You can also call us at the office (248-972-6400) if you wish to pay with MasterCard, Visa, or Discover; we can process your membership over the phone.
Thank You!