OCDP Chair Jody LaMacchia Releases a Statement Slamming Meshawn Maddock's Comments About a Michigan Brexit
Posted on Fri 05/21/2021 - 11:05 am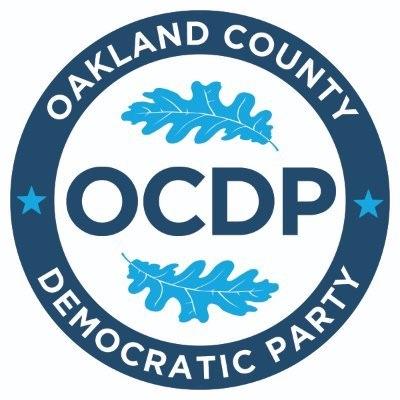 FOR IMMEDIATE RELEASE
May 21, 2021
Contact: Jody LaMacchia, Oakland County Democratic Party Chair, (248) 505-3655
OCDP Chair Jody LaMacchia Releases a Statement Slamming Meshawn Maddock's Comments About a Michigan Brexit
OAKLAND COUNTY, Michigan– In a recent Facebook post, Oakland County resident and MIGOP Co-chair Meshawn Maddock, suggested that Michigan should adopt the Brexit playbook and secede from the United States. She was pictured with Nigel Farage, the notorious racist, sexist, xenophobe and former leader of the UK Independence Party. If that sounds ludicrous and unhinged, it is. But it's also consistent with Maddock's other antics, which would be laughable if she didn't hold one of the top positions of influence and power within the Michigan Republican Party -- and hadn't played a starring role in beefing up the deadly attack on our U.S. Capitol on January 6 by organizing busloads of insurrectionists to add to the destruction and chaos. 

OCDP Chair Jody LaMacchia has released the following statement regarding Maddock's actions: 
"In better, more sane and stable times, Meshawn Maddock would've been chastened and condemned by her own Republican Party for making such an outrageous statement. In times when decency, respect and public service were baseline political aspirations, she never would've been in a position of power in the Republican Party. Today, she is the twisted face of a party that has lost its way and now fully embraces not only the Big Lie but a consistent blast of shrill rhetoric that incites violence, hatred and divisiveness. The fact that she is from Oakland County only makes it more embarrassing for the vast majority of our residents who are disgusted and disappointed by her vile behavior. She is the epitome of all the worst, most extreme tendencies of the Lost Party, and she's bolstered by her Co-Chair Ron Weiser who previously suggested burning our women leaders at the stake and Mike Shirkey, MI Senate majority leader, who hobnobs with the very same so-called "militia" members who planned to kidnap and kill Governor Whitmer. Do you feel like you're in a fever dream yet? A really bad B-movie? No, this is today's Republican Party. Maddock and the others' behavior is reprehensible and deserves emphatic and unequivocal condemnation from both our Democratic Party -- and her own party. But they'll be too busy plotting their next coup to even notice. Divisive, conspiratorial and completely unhinged is their new normal. But the people of Oakland County -- and our state -- and her own party — deserve much better. Democrats will continue to hold unhinged Republicans accountable and demand it."
About the OCDP:
The Oakland County Democratic Party is a non-profit organization whose mission is to promote social and economic justice by building an engaged, diverse Democratic majority in Oakland County in order to enhance the quality of life for all. Membership is open to all Oakland County residents who are eligible to vote. For more information, go to https://ocdp.org or call 248-972-6400.
###