UAW Solidarity Friday
Posted on Fri, 10/11/2019 - 12:24pm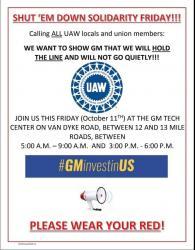 Shut 'Em Down Solidarity Friday!
Calling ALL UAW locals and Union members:
We want to show GM that we will HOLD THE LINE and will not go quietly!
Join us on Friday October 11th at the GM Tech Center on Van Dyke Road, between 12 and 13 mile roads, between 5:00am-9:00am and 3:00pm-6:00pm.
Please wear your red!