Web Series
Tune in as we interview local officials about what's going on in our communities! We will be hearing from many different leaders and organizations for information about the Coronavirus, 2020 Elections, and the many ways that Democrats are supporting Oakland County and making positive change.
---
Unemployment Laws
In our first installment, we spoke with Tony Paris, Lead Attorney from the Sugar Law Center for Economic and Social Justice, to learn about Michigan Unemployment Insurance Law during the COVID-19 Public Health Crisis. Click on the picture below to hear more!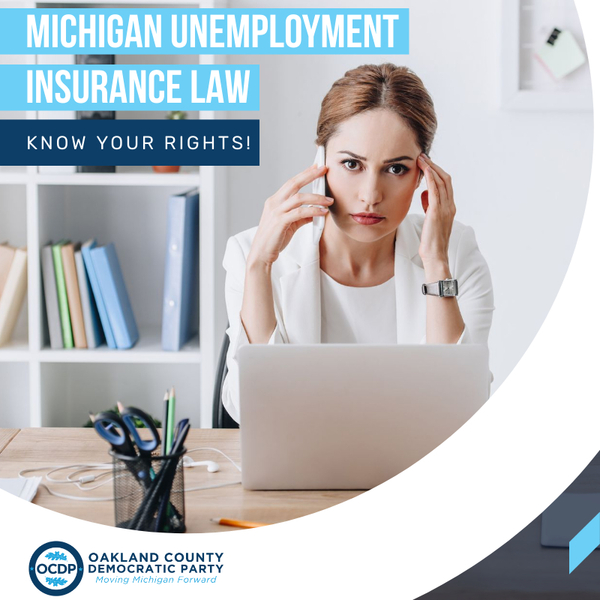 ---
Democratic Leadership in Michigan
Our second conversation was with Michigan House Minority Leader Christine Greig about Michigan Democrats' action on the Coronavirus. Click the picture below to watch the full video!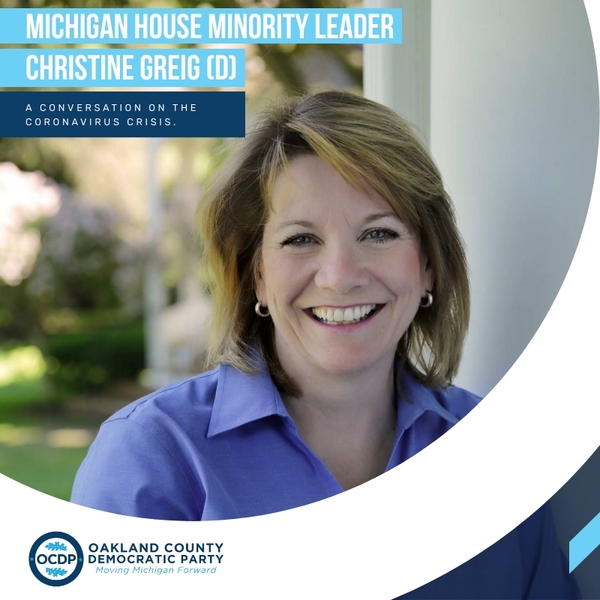 ---
Democratic Leadership in Michigan
State Representative Padma Kuppa spoke with us about Michigan Democrats' actions regarding the Coronavirus and the many ways that her office is working to help her constituents. Watch our conversation with her by clicking the picture below!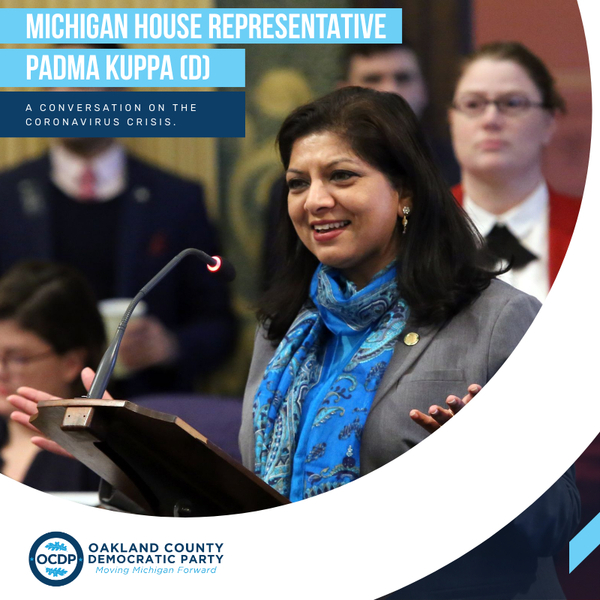 ---
Affordable Care Act/Health Care
Health Care Advocate, Charles Gaba, spoke with us about the Affordable Care Act and how individuals can access health care if they have lost their job during the COVID-19 crisis. Click below to hear the full interview!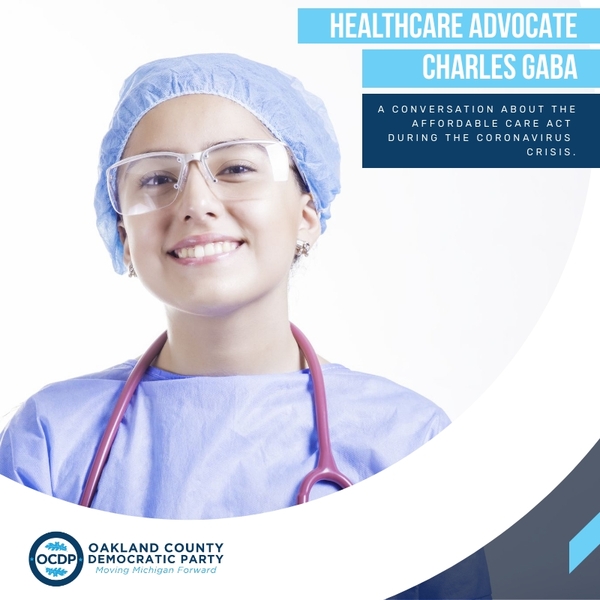 ---
Voting and Safe Elections
Lisa Brown, Oakland County Clerk/Register of Deeds spoke with us about elections and safe voting procedures during the Coronavirus crisis, as well as the ways that residents can access the many services her office provides during this time.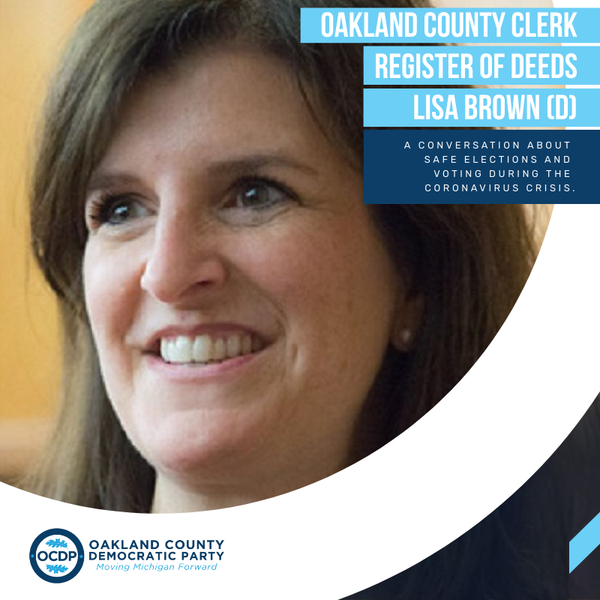 ---
Oakland County Resources
Oakland County Executive, Dave Coulter, spoke with us about all the work he is doing to ensure that Oakland County residents and businesses are staying safe and getting the help that they need.
---
Constituent Services
State Representative Mari Manoogian told us all about her hard work to help her constituents through this tough time, and how she is adjusting to the changes as well.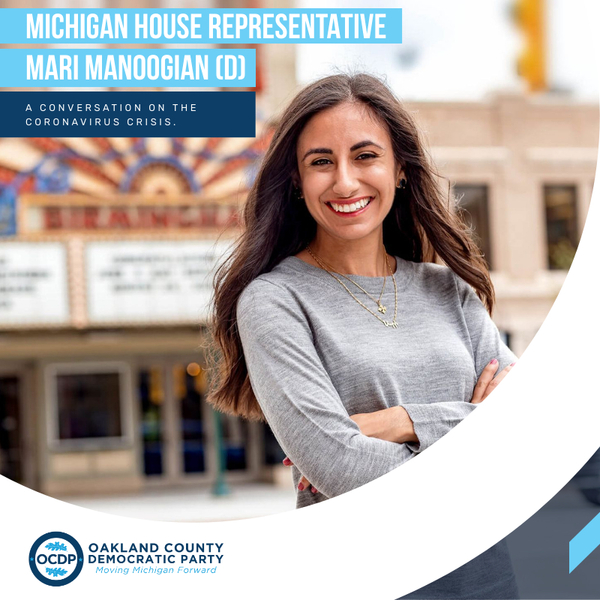 ---
Health Disparities and Community Inequities
State Representative Brenda Carter spoke with us about the socioeconomic disparities and health inequities that have impacted communities during this public health crisis and beyond.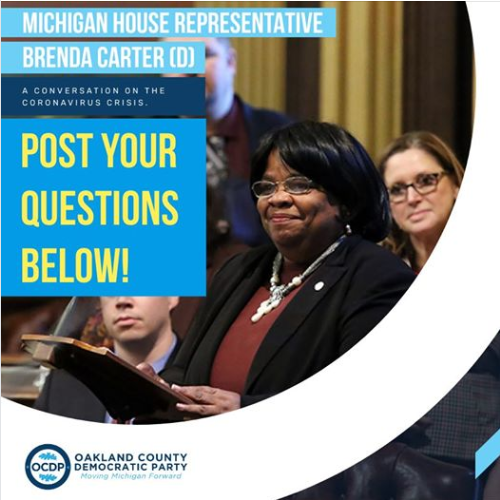 ---
Resources for Victims of Abuse/Violence
Oakland County Prosecutor Jessica Cooper spoke with us about the potential dangers that abuse victims face while sheltering in place, as well as the many resources that the county provides for them.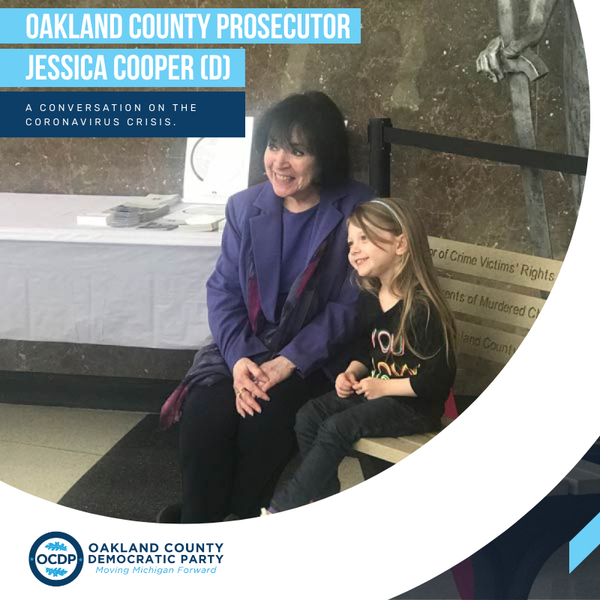 ---
Financial Resources for Small Businesses and Families
Oakland County Treasurer Andy Meisner spoke with the OCDP about the many resources available to struggling Small Businesses and families during this difficult time. Listen to his interview to hear about the work he is doing to help the businesses of Oakland County.
https://www.youtube.com/watch?v=fkIZUWCbl-c
---
We will continue to interview crucial people to provide important information to the people of Oakland County.
Sign up to receive updates when we upload a new video!