Volunteer Opportunities
Stop Voter Suppression!
A dozen Republican caucus members introduced an astounding 39 bills yesterday in the Michigan Senate as part of a giant anti-voter package. These bills are similar to bills that are being introduced across the country. 
Hidden in these 39 bills were a handful of extremely alarming bills that will create unnecessary barriers for eligible people to vote and will suppress access to the ballot including: 
Requiring voters to carry a specific form of photo ID with them on Election Day and banning the ability for a voter to sign an affidavit if they forget their ID

Requiring voters to request their absentee ballot with a specific photo ID or a copy of one

Removing voters' ability to drop their absentee ballot in a secure drop box after 5PM the night before Election Day

Forcing voters to pay to return their absentee ballot by mail by banning clerks from providing pre-paid postage on the return envelope

Banning nonpartisan poll observers on Election Day by only allowing partisan operatives to observe the polls
The Michigan Association of Municipal Clerks, the Michigan League of Women Voters, the Promote the Vote Coalition and Secretary Benson have all denounced the 39-bill package. Benson states: "Many of the bills in this package will make it harder for citizens to vote. Rather than introducing bills based on disproven lies and copied from other states, lawmakers should be codifying what worked in 2020. Michigan voters demonstrated they want our elections to be accessible in 2018 when they enshrined new voting rights in our state constitution, and again in 2020 when millions exercised those new rights. Everything we do should be based on protecting the right to vote, and too many of these bills would do the opposite." 
We know that these 39 bills are just the start and that there is a plan for even more bills that create higher barriers for eligible people to needlessly jump in order to exercise their constitutional right to vote. 
URGENT ACTION NEEDED:
Voters Not Politicians (VNP) is calling for everyone to contact a targeted list of Senators and asking them to support Benson's Advance the Vote agenda and to reject the 39-bill package. Please use this form to document your calls. 
VNP is also coordinating some no-contact lit drops to spread the word! Sign up for lit-drop shifts HERE
---
United Way Southeastern Michigan 21-Day Equity Challenge!
The 21-Day Equity Challenge is an opportunity to expand your knowledge and understanding of the historic and persistent inequities that play a role in our social and economic landscape. Starting May 21, you'll receive an email prompt every weekday with articles, videos, charts, and infographics on issues related to equity. If you are interested, you can find more info and sign up HERE
---
Legislative Canvassing and Phone Calls w/ Rep. Bolden - District 35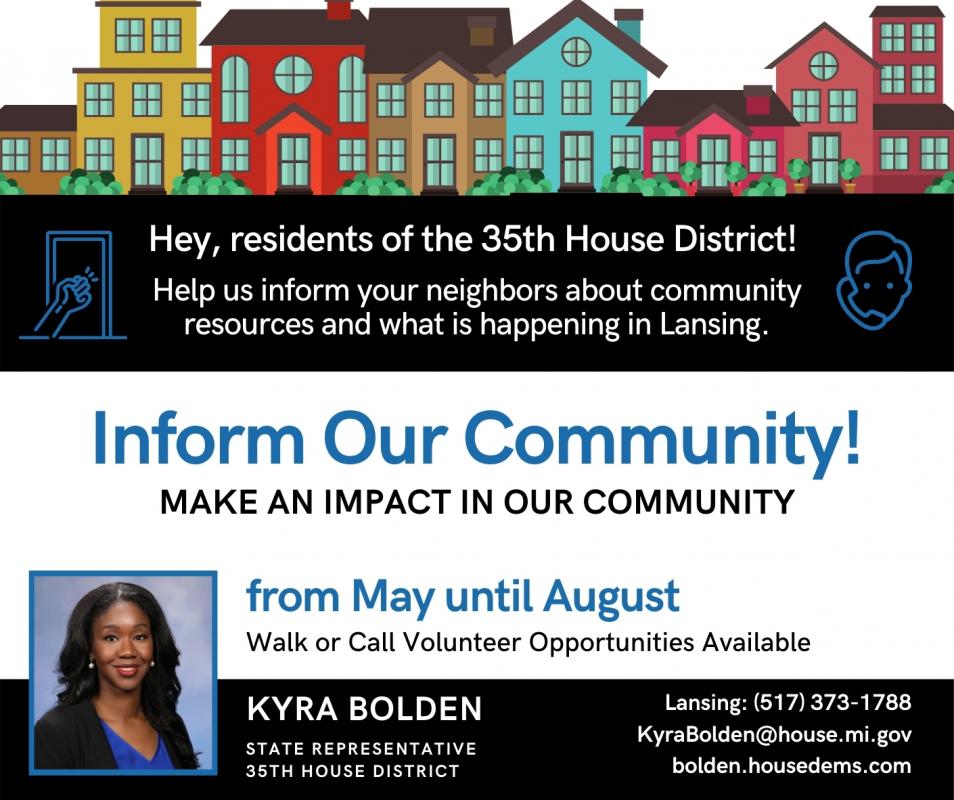 SIGN UP HERE to knock doors or call your neighbors to inform them about community resources and what is happening in Lansing!