Our Vision
The Democratic Party is committed to keeping our nation safe and expanding opportunity for every American.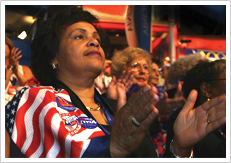 That commitment is reflected in an agenda that emphasizes the security of our nation, strong economic growth, affordable health care for all Americans, retirement security, honest government, and civil rights.
Why register as a Democrat?
If you believe in good jobs, a balanced budget, choice, a clean environment, quality education, more police on our streets and keeping guns out of the hands of criminals - join us as Democrats to unite people in Oakland County.
We are pro-family and pro-children. We fight for a quality education and safe schools for our children. We'll continue to fight to raise the minimum wage, protect Social Security and provide quality and affordable health care for all people.
Vaughn Derderian
Chairman, Oakland County Democratic Party